The Asian American and Pacific Islanders (AAPI) Heritage Month Celebration is a series of celebration events that promote AAPI culture, unity, solidarity and belonging. Our diversity is our strength, and we are stronger together! In each week of May, we feature a different aspect of AAPI including history, art, food and a cumulative festival celebration and 5K Run on Memorial Day May 30th. Please visit town website or CAAL website or Lexington AAPI Heritage Celebration page for more information about this celebration. Below is an Outline of the program.
AAPI History Celebration @ Cary Library
Watch the film: Far East Deep South to explore the history of AAPI in the US on 4/28
Meet the director and producer in a virtual live Q&A on 4/29
Check out the AAPI book display from 5/1-5/31
Here are more event details. Download the event flyer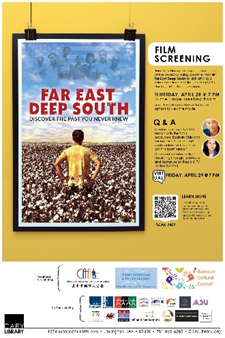 AAPI Photography Exhibits @ Cary Library
Explore "Asians in Lexington: One Village, One Dream" Photography Exhibition and Youth Artworks from fellow Lexingtonians that reflect Asian Americans in community building, civic engagement, humanity activities, culture celebration and arts. 5/1-6/30
Download the Exhibits flyer
AAPI Food Cultures
Meet a panel of food experts for a conversation about the relationship between food, culture and identify at 7pm on 5/24 @ Cary Library
Download the AAPI Food Panel flyer. Here is the Registration link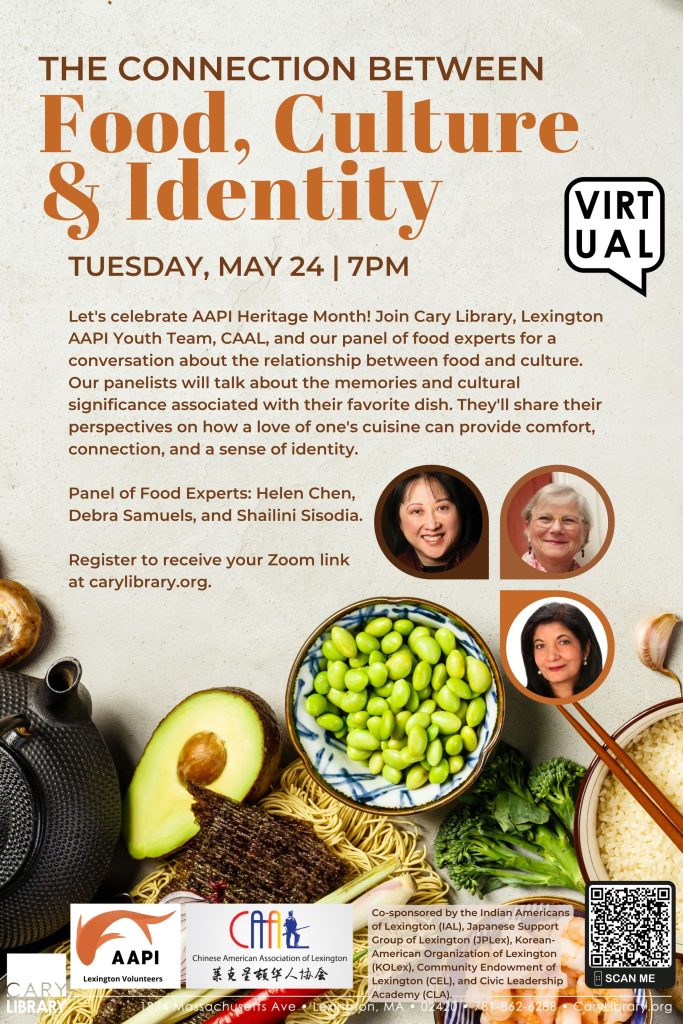 Submit your favorite recipes; Pre-order locally-sourced cookbookfeaturing fellow Lexingtonians' favorite recipes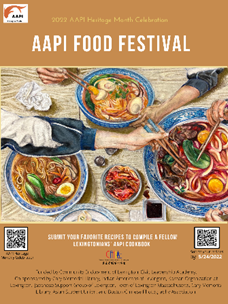 AAPI 5K Run 'N' Walk and Food Festival
Memorial Day (May 30) at 10:30 AM; Start and finish at Lexington High School
Click the Event Website for registration and more details. Download the 5K run and Festival Flyer.
After the run, come to celebrate a culmination of AAPI history, art, and food at LHS Field House and enjoy AAPI sampling food, AAPI fun events, ice cream and family time…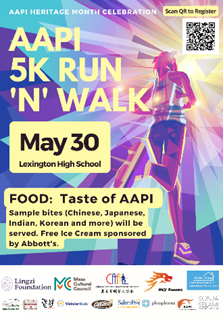 This AAPI event series is:
Organized by Chinese American Association of Lexington (CAAL) and Lexington AAPI Youth Team
Funded by Community Endowment of Lexington, Mass Cultural Council, and Civic Leadership Academy
Co-organized or co-sponsored by Town of Lexington, Lexington Human Rights Committee, Cary Memorial Library, Boston Chinese Photography Association (BCPA), Lexington HEY Runners Club, Indian Americans of Lexington (IAL), Japanese Support Group of Lexington (JPLex), Korean Organization of Lexington (KOLex), Association of Black Citizens of Lexington (ABCL), LHS Asian Student Union (ASU).